There are a lot of reasons to choose blueprintsprinting.com for all your construction plan and large format  printing needs.  Let's review four of the most obvious ones….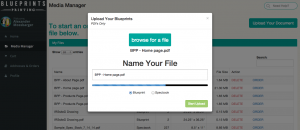 Price:  We beat our competition's prices by 50 – 75%  Where else can you get Arch D (24 x36) black and white prints for just 66¢ a sheet?  Our low prices beat our competitors' on every type of large format print, every type of paper, any binding you desire, etc.  However, don't think that because we are inexpensive we are compromising on quality.  We use the latest and greatest printing technology to deliver high-quality, high def prints every time.  Some of our recent print projects are being hung in an art show!   We just can't be beat!!
Convenience:  Our online platform is super user friendly and easily accessible to order blueprints from your mobile device or desktop.  You are going to really appreciate the time and hassle you save by simply uploading your plans, blueprints, and other project files to your Blueprints Printing account and placing your order through our online system.  No need to make multiple trips to the print shop or local reprographer.  We will print your documents, and ship them to wherever you need them. Super Convenient!
Speed:  Which brings us to another big selling point –  we print projects out fast!  In most cases we will print your documents the same day that you place your order.  So in most cases you can have your documents within 24 – 48 hours (depending on the time of day you place your order) with our overnight shipping option.
Multiple shipping options: Our final competitive advantage is that not only do we get prints out fast – we get them to wherever you might need them.  Our platform allows you to select multiple shipping addresses.  So you can ship your project documents to your client, your contractor, and other members of you team scattered across the country, if needs be.
Sign up at Blueprintsprinting.com today and take advantage of all the ways that we can make your life and your business run a little smoother!  Order blueprints today and see!