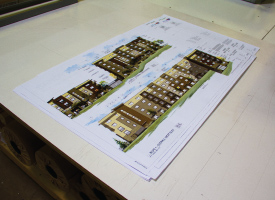 Well, things are starting to get busy at Blueprintsprinting.com.  The orders for all manner of printing projects keep rolling in.  Everyone is gearing up for a big spring construction boom.  Our customers couldn't be happier to have found us.  They are saving time, money, and headaches by using our innovative printing services to simply upload their pdf files and order their prints – all right from their desktop or mobile device!  Plus, our high tech printers turn out some of the highest quality prints available.  In fact we recently printed some large format black & white photographs that will be hung in an art gallery in San Francisco!  Have a look at some of the customer feedback we have gotten recently:
"I am most pleased that my order has already been printed and shipped FEDEX.  Thank you for that information.
Because you gave me the tracking number, I am able to track this until it arrives, and it is expected to be delivered Monday, which is earlier than expected, thank you.
 It is refreshing and unusual for such care to be taken with a response for an order of less than $100. Please keep up the good work.
I like how your company works.   I can download my files as soon as I finish the drawings, and they show up wherever I need them.
Why would anyone spend time and gas to go back and forth with a local print shop?  (Guess that's why the company I used before just went out of business)   Excellent job,  thank you."
 Pete
Construction Manager
"WOW…what incredible prints…the quality of these things is beyond awesome…you folks have just gained a repeat customer!
I am going to refer you to our engineering dept…
Great job to all involved….Bravo.
More map jobs to come…fur sure"
Thanks Again,
Dave
We aim to please folks!  Thank you to all our wonderful customers.  We look forward to serving all your printing needs….. and to bringing you an awesome and innovative construction, design, and architectural software platform very soon!