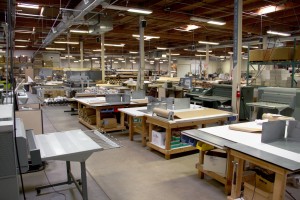 According to Wikipedia, "reprography is the reproduction of graphics through mechanical or electrical means, such as photograpy or xerography. Reprography is commonly used in catalogs and archives, as well as in the architectural, engineering, and construction industries."  It is this last part of the industry that we are focused on here at blueprintsprinting.com. This industry has been changing quite rapidly in recent years, as we have discussed in some of our previous blogs, and as Joel Salus over at Reprographics 101 details extensively in his blog posts extending back to 2009. However, it is our view that the industry, in general, still has a long way to go to catch up with the technological change that is sweeping the design-build industries.
In the, United States the reprography industry is relatively small, and shrinking every day.  As the demand for paper prints shrinks, reprography shops are going out of business, or are raising their prices to stay afloat in business environments of decreased revenue from volume sales.  We at Blueprintsprinting.com, along with a few of  our more forward looking competitors, are taking a different path.  We are lowering prices! To do this and remain viable, we are working with print partners nationwide to maintain the volumes necessary to sustain our near-wholesale prices.  Granted, some of the very large contractors, municipalities, or other very large volume customers for print products may be able to negotiate somewhat lower prices than we are able to offer by working directly with their local print shop.  However our business is primarily aimed at the small- to medium-sized contractors, architects, engineers, and subcontractors.  These folks generally do not print at the volume necessary to have much negotiating leverage with the print shops, so they enjoy a huge benefit when they find and order from blueprintsprinting.com.  We also do have the flexibility to work out special prices and invoicing for the large contractors who do do business with us. With advances in software, e-commerce, fulfillment, and third party logistics options, we have been able to design a business model that allows us to provide very fast print project turn around, low-cost, speedy delivery anywhere in the U.S., and volume pricing.  The reprography industry is consolidating and becoming more efficient, and Blueprints Printing is leading the way!
In his latest blog post, Joel mentions some of our internet based reprography competitors.  Here is are a just a few ways in which we are ahead of the competition to modernize the reprographics industry:
1.  Lower prices – We still beat almost all of the other shops prices.  We are far ahead on color pricing, and color is where the industry is moving (color coded construction plans dramatically reduce errors and improve efficiency on build projects).
2. More convenient  upload and ordering – Our competitors still do not have fully automated process for uploading your plans, choosing your specifications,  and placing your order.
3. Multi-address shipping – as far as we can tell we are the only online print company that makes it easy for you to ship sets of plans to multiple addresses.  Ship set to your subs, clients, and/or business partners all in one easy ordering process.
4.  Software as a Service solutions – We are constantly building new functionality and conveniences into our software and web platform.  Our members will be on the leading edge in construction, architecture, and engineering  industries as we continue to build out our plan room, bid software, and social media platform for the design-build industries.
5.  Expanded options – We offer more options for our customers, from color divisions (print addenda and/or other portions of your plans on different colors of paper to make it easy to turn to the section of the plans you need), weather proof Tyvek plans for onsite drawings, to Mylar prints for overlays, custom sizing, etc., etc.  We have all the options you would ever need.
So, what is happening in the reprographics industry?  Blueprintsprinting.com is happening!