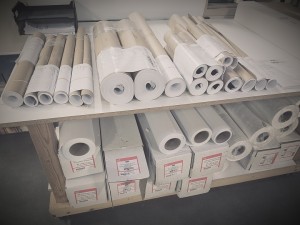 Well, our little company enjoyed remarkable growth throughout 2016, and already 2017 is off to a roaring start!  January has brought our largest volume of orders so far.  Builders, contractors, architects, engineers, construction crews, and seamstresses continue to find our website and fall in love with our easy online ordering services, as well as our unbelievably low prices on plan printing.  We couldn't be more pleased!
Aside from printing and shipping out construction plans, sewing plans, and other large format documents right and left, we have also spent January mapping out the upcoming year.  2017 will be a very exciting year of continued growth and expansion for Blueprintsprinting.com!  Let us tell you a little bit about what we have in store….
An expanding footprint of printers and shippers:
We are currently working with a new 3rd party logistics provider who specializes in e-commerce to allow us to ship UPS Ground more quickly to more places.  By the end of Q1 we hope to have this finalized, and have print and ship locations operational in the North East (likely Pennsylvania), Houston, and Orlando.  By adding these three additional print floors, we will be able to offer 2 day UPS Ground shipping to well over 90% of the U.S. population, and 1 day UPS Ground delivery service to most of our largest metropolitan area purchasers.  This will make our already convenient low cost print and ship services even more convenient and low cost!  Many of our customers will enjoy the benefit of not having to pay extra for expedited shipping by having a printer closer to them.
An expanding suite of software and functionality:
We continually are looking for ways to make the file upload and ordering process easier for our users. With this in mind, in early 2017 we will finally be rolling out our pdf handling software, which will allow our customers to upload multiple files at one time, merge their construction document files together, and/or extract pages for printing.  We anticipate that this functionality will make the ordering process significantly faster, and simpler.  Keep an eye out for the file handling software to be integrated with our website early in Q2.
As we have indicated elsewhere on our website and blog, we have we will also be adding a Plan Room to our software as a service offerings.  The plan room should be rolling out in late Q2, if all goes as planned. Having the multiple file upload and pdf handing software completed will mean building the plan room software is one step closer.  It will not take much for our programmers to build the additional functionality to allow our users to then share their construction plans with contractors, subs, and clients, and to re-download plans as needed.  Many of our clients have told how excited they are to have these options available, and we are working diligently to bring that about as soon as possible.
 Stay tuned for these exciting additions to our business in 2017 and more of our plans in the years to come.