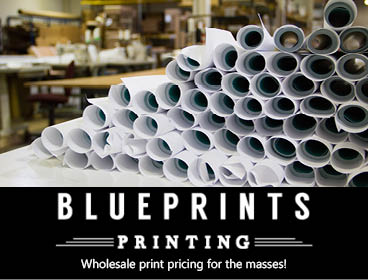 From small to large quantities, Blueprintsprinting.com is your go-to for all types of large format document printing. We specialize in construction, architecture, engineering, and design-build documents, but we have also been known to print large format black and white photos for art gallery installations, window coverings, maps, model schematics, sanskrit scrolls for religious ceremony, flow charts, network diagrams, posters, banners, etc.  If it involves paper and ink, we can probably produce it.  Many of our customers have a few questions when ordering from us for the first time, or doing a new type of large format document print project.  So, we thought we would write up a post to address a few of those questions. Here are some particulars to keep in mind when choosing your paper, ink, and binding options:
PAPER
20# (20 lb.) – the most common paper bond for traditional black and white blueprints and other large format documents.
24# & 32# (24 lb. or 32 lb.)  – thicker bond papers, ideal for color large format documents.  Many of our clients opt for the 32# bond when printing color presentation blueprints, or proposal documents.  The thicker bond absorbs the color ink very well and makes for a very high quality finish on your color docs.
Tyvek – The ideal jobsite material!  Tyvek is a weatherproof and tear resistant material made from a textile and pulp blend.  Contractors and construction crews love it for the on site plan sets because it stands up to the rough and tumble rigors of any construction project.  These prints are virtually indestructible!  We also have had clients use our Tyvek print process for other large format document purposes, such as long lasting flow charts and diagrams to be hung on warehouse or manufacturing floors, network schematics, outdoor posters, etc.
Mylar – We offer Mylar in both a clear (completely translucent) and a frosted (more opaque) variety.  Mylar is printed using a laser process and is only available in black & white.  Our clients use Mylar prints for overlays, tracing, engineering drawings, and the like.  Mylar also works with dry erase markers, so you can mark these prints up and wipe them clean as needed without effecting the print at all.  Mylar is plastic type material so is tear resistant and quite durable.
Vellum – Similar to Mylar, but with an old world feel, Vellum is a vegetable based paper product.   Vellum is semi-translucent and has a plastic feel; it is durable, and is often also used for overlays, engineering drawings, or to give blueprints that nostalgic touch.  Vellum used be made from calf skin or other animal membrane and was widely used for blueprints.  It is less commonly used today, but we still have a number of clients who like the vellum print finish for certain large format documents.
Sizes
We offer our large format documents, as well as small format documents, in all of the standard engineering and architectural sizes, as well as in custom sizes.  In case you are new to these industries here is a brief explanation of standard sizing:
Engineering or Mechanical sizes as defined by American National Standards Institute:
ANSI A = 8.5″x11″ (Regular home office sized paper)
ANSI B = 11″X17″  (This also the half-size for ANSI D)
ANSI C = 17″x22″ (Half size of ANSI E)
ANSI D = 22″x34″ (Our most commonly ordered size for engineering drawings)
ANSI E = 34″x44″
Architectural Drawing Sizes:
ARCH A = 9″x12″ (1/3 size for ARCH E)
ARCH B = 12″x18″ (Half size for ARCH D)
ARCH C = 18″x24″ (Half size for ARCH E)
ARCH D = 24″x36″
ARCh E1 = 20″x42″
ARCH E = 36″x48″
For more info on the standard sizing and creating your CAD drawings in accordance with these standards here are a couple useful links:
We can also print custom size documents for a variety of special purposes.  As mentioned at the outset of this post, we have printed large format documents for almost as many  purposes as you can imagine. Give us a call to find out if we can help you with your custom project or visit our pricing page to see our prices per square foot.
Phone: 888-507-1002