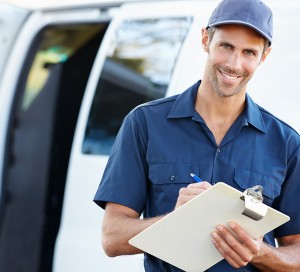 Delivery of large format construction documents and architectural drawings is not something construction firms often think of.  There are not a lot of companies out there that offer this serivce. The traditional model for getting drawings printed has long involved multiple trips to the local reprographer or print shop to explain what is needed, place the order, and then to return to pick up the prints a few days later.  Well, no more!  Blueprintsprinting.com has revolutionized, streamlined, and automated the whole process.  Now construction planning documents can be ordered easily from desktop or mobile device, and delivered within 2-3 business days to offices or job sites across the U.S.
Contractors and subcontractors often are working on-site at construction projects far from their home office. Quite frequently the need for a newly revised plans, or additional sets of architectural drawings arises on-site at the construction project. It maybe that construction changes had to be called in to the designer and s/he sent revised construction plan PDFs electronically out to the job site personnel; maybe the first set of drawings was lost or damaged (check out our Tyvek print products to avoid the weather damage issue), maybe the electronic version and the BIM software that the on-site crew had planned to use just isn't working out. Whatever the case maybe, the need for drawings and specifications delivered quickly to the job site is something that our customers repeatedly come to us for.
Our rapid turn around print production, and multiple shipping options enable quick job site delivery of high quality construction drawings and spec books. Once contractors and subs have a blueprintsprinting.com account created, they can easily upload their drawings for their project into their free media manager on our cloud. After PDF architectural and construction drawings are uploaded, it is a very easy process to order prints as needed. New orders can be placed from tablet or other mobile device in the field very easily. Our print facilities in Atlanta and Salt Lake City put most of the United State within a two business day delivery range for inexpensive UPS delivery. If two business days is not fast enough, we also offer faster FedEx delivery options.  Either Fedex or UPS, we will have your architectural drawings and other construction documents to your job-site or office in no time.